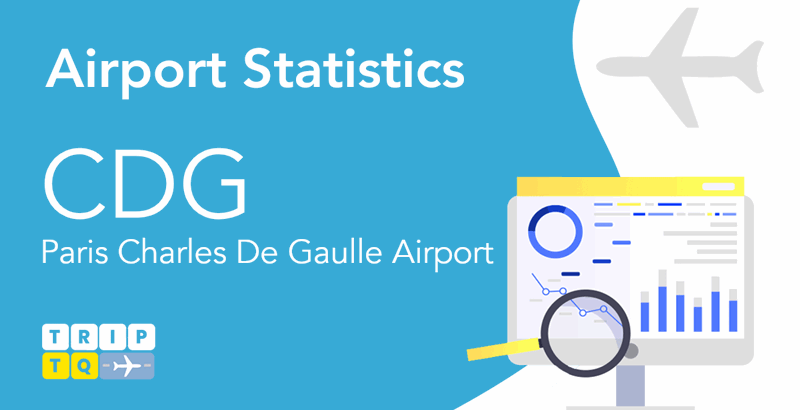 Paris Charles de Gaulle Airport's Q3 2023 Passenger Traffic Shows Steady Recovery of 10% YoY
Paris Charles de Gaulle Airport, one of the world's busiest air hubs, experienced a positive 9.55% growth in passenger traffic in Q3 2023 compared to the same quarter in 2022. This encouraging upward trend indicates a steady recovery from the pandemic-induced decline, surpassing passenger numbers recorded in Q3 2020 and Q3 2021. Despite this encouraging progress, the airport has not yet fully recovered to its pre-pandemic passenger volume recorded in Q3 2019.
Sustained Passenger Growth at Paris Charles De Gaulle Airport - Q3 2023
Paris Charles De Gaulle Airport in France has been making continuous efforts to increase passenger volume growth. The significant improvement in Q3 2023 is a testament to these efforts. The airport saw a 9.55% increase in passenger volume compared to the same quarter of the previous year, marking a positive and encouraging progress.
From Q3 2019 to Q3 2023, the airport has experienced various fluctuations in passenger volume. In Q3 2019, the airport served 21,711,192 passengers. However, due to the global pandemic, the number dropped to 5,219,599 passengers in Q3 2020, a decrease of 75.96% from the same quarter of the previous year.
Despite the challenges, the airport managed to bounce back with an 82.06% increase in Q3 2021, serving 9,502,740 passengers. The upward trend continued in Q3 2022 with a remarkable 83.13% increase, serving 17,402,227 passengers. In Q3 2023, the airport served 19,063,336 passengers, continuing the positive trend.
Paris Charles De Gaulle Airport Passenger Volume - Q3 2019 to Q3 2023
The Q3 2023 passenger traffic data for Paris Charles De Gaulle Airport shows a promising recovery compared to the rest of the quarters. The airport served 19,063,336 passengers in Q3 2023, surpassing the pandemic levels of Q3 2020 and other quarters after that. However, when compared to the pre-pandemic quarter of Q3 2019, it is evident that the airport has not yet fully recovered.
The airport served 21,711,192 passengers in Q3 2019, which is still higher than the 19,063,336 passengers served in Q3 2023. Therefore, while the Q3 2023 figures show a significant improvement, the pre-pandemic levels of Q3 2019 remain a challenge for the airport. Despite this, the consistent growth trend from Q3 2020 to Q3 2023 is a positive sign of the airport's resilience and adaptability in the face of global challenges.
Passenger Traffic at Paris Charles De Gaulle Airport – 2019 to 2022
The passenger traffic at this airport has experienced significant changes over the past five years. In 2018, the airport served 72,196,444 passengers, which increased by 5.46% to 76,136,816 passengers in 2019. However, a drastic decline of 70.79% was observed in 2020, with the passenger count dropping to 22,242,299. This was likely due to the global pandemic that severely impacted air travel worldwide.
In 2021, the airport began to recover, with passenger numbers increasing by 17.74% to 26,187,008. The recovery continued into 2022, with a remarkable increase of 119.43% in passenger traffic, bringing the total to 57,461,426 passengers. This significant increase suggests a strong recovery and return to pre-pandemic levels.
The reasons for this substantial increase in 2022 could be multifaceted. It may be attributed to the easing of travel restrictions, increased vaccination rates, and the pent-up demand for travel after prolonged periods of lockdown and travel restrictions.
The implications of this trend are promising for the future of this gateway. If the current growth rate continues, it is likely that passenger traffic will soon surpass pre-pandemic levels. This could lead to increased revenue for the airport and a positive impact on the local economy. However, it is crucial for the airport to continue implementing safety measures to ensure the health and safety of all passengers amidst the ongoing global pandemic.
Flight Statistics at Paris Charles de Gaulle Airport - September 2023
In September 2023, the airport's top destinations were France, Italy, the United States, Germany, and the United Kingdom. These destinations were served by a variety of airlines, including Air France, easyJet, ASL Airlines, Delta Air Lines, and Lufthansa. The airport also served several domestic destinations within France, including Nice, Marseille, Toulouse, Bordeaux, and Lyon.
Milan was the most popular international destination for the month of September, followed by London, Frankfurt, Amsterdam, and Istanbul. These cities offer a diverse range of attractions for visitors, from historical landmarks to world-class museums and vibrant cultural scenes.
EasyJet and Air France were the two most dominant airlines operating at the airport in September, offering flights to a wide range of destinations across Europe and beyond. ASL Airlines and Delta Air Lines also contributed significantly to the airport's traffic, providing connections to regional destinations within France and the United States, respectively. Lufthansa, the national airline of Germany, also offered direct flights to Frankfurt from the airport, catering to both business and leisure travelers.
The airport's convenient location and excellent connectivity to public transportation make it an attractive choice for travelers seeking to explore France and its neighboring countries. With its diverse range of destinations and reliable airline services, the airport serves as a gateway to Europe and beyond, offering travelers a seamless and enjoyable journey.
Are you a travel publisher and would like this information for your site/blog/publication?
Contact us on this form to request Paris Charles de Gaulle Airport Statistics (Statistics, data and infographics are available for a wide range of airports worldwide - please tell us your requirements using the form)
UNBEATABLE VALUE CAR RENTAL

FREE
Amendments,
FREE
Cancellations,
NO
card fees!

airport_shuttle Need Airport Transfers?
Useful Information about Paris Charles De Gaulle Airport